"In assembly today we watched a film about Ants, it was very interesting, we saw how they build their nests and look after there eggs"
―Dinah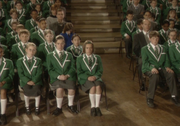 Assembly is an important part of the school day at St Champions. All the school, except members of SPLAT go into the hall for Assembly with The Headmaster.
He reads from a textbook and hypnotises knowledge into the Pupils, Prefects and Members of Staff. This way of "learning", Pupils learn what they need to know in an easy and efficient way. The Headmaster hypnotises the Pupils to remember that they watch films on various things i.e Ants, Coalmines.