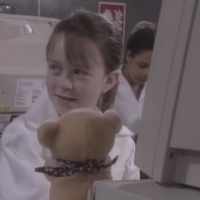 Bess (Florence Hoath) is a character from the "The Prime Minister's Brain" book who also appears in the second half of the television adaption of the first series, starting at episode 4.
She is one of the finalists (who are nicknamed "Brains") of the Junior Computer Brain Of the Year who Dinah meets once she arrives at the computer room in Saracen Tower. She is described as being very young, one of the youngest Brains there, and is shown to be quite, only greeting Dinah with a whispered hello. She seems to have brought her teddy bear along with her. Despite her age, she must fairly smart to make it to the tower.
During Dinah's stay in the tower she mostly interacts with Bess, Camilla and Robert Jefferies,
Community content is available under
CC-BY-SA
unless otherwise noted.