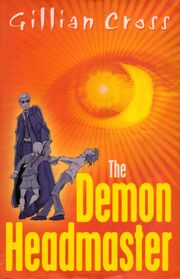 The demon Headmaster books are a English children's book series written by Gillian Cross and was later adapted into a TV series for CBBC.
The title character is a strange person (it is never made clear whether or not he is human; however, given that his clone - created after his 'death' in the fourth book - possessed his hypnotic powers and desire for control, it is clear that he is far from normal) with the powers of hypnosis and a desire to take over the world - he believes it will be better under his ordered rule. Some of the books in the series were adapted for use in the Demon Headmaster TV Series.
Overall plot
Edit
The books could make bones shiver between the different points of views of the members of SPLAT (The Society for the Protection of our Lives against Them) as they unravel the latest sinister plot designed by their former Headmaster for him to gain control over the whole world. ===== Each book has the Headmaster creating a new plot to take over the world where he will make things more efficient and eradicate the freedom of choice and instead have the world's population under this control via his ability to hypnotize people.
Reading order
Edit
Audio books
Edit
All of the books in the series are available on audiobook. Most of the books in the series are read by Judy Bennett, although Facing the Demon Headmaster is read by Kelly Hunter.
Characters
Edit

Splat!:
See Also
Edit
Community content is available under
CC-BY-SA
unless otherwise noted.