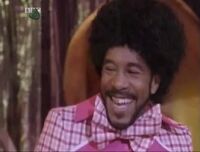 Eddy Hair is a television personality who appears within the first book and the first series of the television series. He appears in and presents a chaotic children's sketch/quiz show called The Eddy Hair Show which is a mix of sketches and a school quiz featuring two teams from different schools.He has a series of pointless challenges which will usually be impossible to complete.
The Headmaster planned to appear on the show with a team of children from St Champions and win the quiz in order to be allowed to talk to the nation which is when he planned to hypnotise the whole of the United Kingdom and take over and become the ruler of the world.
Eddy is a wacky character who causes chaos and mess within on his show. He seems to to be scared of the control the headmaster has over the pupils even pretending to shiver. He told Ian that he cannot read or write, however it isn't known if this is the case or if he was in character and was only joking.
The wacky character is Portrayed by Danny John-Jules who played the 'Cat' in Red Dwarf.